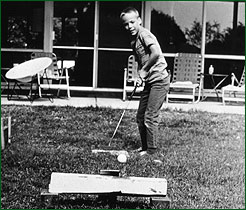 Here I am in my backyard (c. 1970) playing at one of my early courses.
The following originally appeared in Peek, a publication of Potlach Corporation
When I was four my uncle "Mo" introduced me to miniature golf at a hand-crafted Hawaiian-themed course, appropriately, called "Hana-Lea" (Hawaiian for "Small Work".) There, amongst the wave-like, felt-covered fairways and the small scale thatched huts where balls would enter and then drop magically onto greens ringed with real lava rock, there were miniature lagoons, bamboo bridges and the occasional "island" to be reached via winding paths perched alongside cascading waterfalls. In the eyes of a four-year-old it was a complete transformation to another world. Here, "towering" tiki poles and a host of other designed elements made the noise of the rest of the world seem as far away as it could be.
Little did I know that these excursions (my uncle recalls someone, either he or my father, taking me to play miniature golf almost every other day over the course of several summers) were introducing me to multiple phenomenas. One was certainly created by escape through the re-design of an environment. A second was a result of an immersion into a game of nagging psychological demands. Golf bit me at an early age and, quite appropriately, influenced my future in design.
I became obsessed with golf. Especially with the design of its unique playing board. Golf, unlike any other sport or game, is carried out over an area of awarded luck and encouraged misfortune that also happens to be a living environment. Without question, no two courses are alike. Nor is any hole on any course ever the same. Nor is any hole, even if played the very next day, going to relinquish the same experience. Daily tee and hole locations make for an infinite number of configurations. As does the wind, the temperature, the condition of the grass, and the suddenly drooping branches of a once upright tree. I experimented with golf, designing backyard miniature courses, designing scorecards and trying my hand at the business side of golf by charging a few cents to "experience" my creations.
But later on, I realized that golf was even more unique beyond its visible design. Golf is theater, perhaps never more accurately described than by author Arnold Haultain in his 1908 book "The Mystery of Golf". Haultain sums up golf by saying, "…at every hole is enacted every time a small but intensely three-act drama. Eighteen dramas, some tragical, some farcical, in every round…No wonder the ardent golfer does not tire of his links, any more than the ardent musician tires of his notes. What theatre-goes enjoys such plays? And what staged plays have such a human interest in them? And, best of all, they are acted in the open air, amid delightful scenery, with the assurance of healthy exercise and pleasant companionship."
Golf, with its very "simple" objective to knock a small ball from one point eventually into a hole only slightly larger than 4″ in diameter, is only simple in its broadest concept. In reality, golf is a mixture of influences which cater to every conceivable sense. The touch and feel surrounding the physical relationship between golfer, club and ball. The perspective in sight between where one is, and where one needs to end up. The sounds of birds, rippling water or even the playing partner who babbles on about a recent mix-up in airline reservations. There is the unmistaken aroma of freshly cut grass, blossoms in spring and the chilling non-smell of a wintery wind. And, unique also, are the rituals of golf: the taste of a hearty breakfast while looking out over the first fairway all covered in dew, or perhaps the long-awaited drink that is served on a porch looking out to an approaching sunset and dancing shadows.
And then there is the sixth sense. The strategy and requirement to see in one's mind what lies ahead. Envisioning a map of the route to be taken and — somehow — translating that strategy and vision into physical agility and the coordination of hundreds of muscles and millions of individual human cells. To many, golf approaches that of the metaphysical. How else is it possible to explain mind-over-matter shots and miraculous recoveries from deep within thick neighboring woods? Or, conversely, the mental shut-down that occurs when a short and simple shot must be played across a shallow pond to a large carpet of grass that is but a stone's throw away. Golf is full of psychology. The game forces a relationship between the environment, other people, competitive nature and, especially, one's inner self.
My fascination with golf lies in each of these thoughts, as does its reliance on design. There may be no other activity or pastime so dependent on design. While the game of golf itself cannot be improved, it is tremendously rewarding to sculpt and shape an experience for thousands upon thousands of people by laying out a pattern of holes and providing a one-of-a-kind adventure that will hopefully beckon people back because of its beauty, intrigue and challenge.
Add to this the tremendous scale of golf. It remains entirely opposite from almost all other forms of design in virtually every aspect. First, the design process in golf course architecture happens at a miniscule scale compared to the final product. Second, it takes years to build a golf course from concept into reality. And lastly, and somewhat unsettling, is that the design of a golf course in many cases is not fully appreciated until generations after the trees have been planted and nature begins to fill in all of the nooks and crannies with a texture of maturity. A golf course is really never finished because it continues to grow and die, and grow again.
Each time I delve into a project I am looking back on my influences. The lessons learned at Hana-Lea and how it took my mind away and gave me a place to live out a small drama of my own. Of sculpting golf holes out of my backyard and using the trees and terrain as obstacles and backdrops. While the scale has changed — thanks to age, experience and not as much hair in my eyes — the allure of golf and its design is still the same and virtually unchanged to me.
Designing golf courses might very well be the ultimate design assignment. With each course I am reshaping nature, but leaving in its place a sanctuary for people, birds and plants that produces enough oxygen to support a town of 7,000 residents. All at once I am problem-solving and, by design, creating problems to eventually be solved by others. I am designing not just one thing, but a trail with many forks in the road. I am writing a script, but at the same time allowing the actors to decide their own endings, none of which will ever be exactly the same. Amazingly, it never fails to stoke the fire in my belly.