Golf & Sustainability
Sustainability has always been a critical aspect of our work at Forrest Richardson Golf Course Architects. A sustainable approach leads to a sustainable project — and that marriage forms what we refer to as "sustainability."
To be sustainable in golf is to be:
1.  Environmentally compatible in every way practical. From site selection and use, to how we plan and anticipate the course being maintained and managed. Everything from turfgrass selection to such aspects as water harvesting, filtration, water conservation, irrigation technology and, of course, limiting inputs such as fertilizers and turf care agents. Today, projects are being planned to use natural, organic means of turf care. The old days of managing — similar to virtually all other industries — is now one of less, natural and leaving the environment in better condition than before.
2.  Economically positive for the community. Golf is a $5 billion economy in the United States alone. Golf courses employ people, create new jobs, foster local economic development, and influence other sales in fashion, equipment, supplies, tourism and associated food and beverage. Now we can add "entertainment golf" options to the list — the number of "off-course" golf participants is now just as large as those who play on real grass, traditional courses. Bottom line: Golf positively affects the economy, and when we are given the leeway to create special experiences, we're contributing even more to the local economy.
3.  Socially healthy, providing people opportunities to interact and gather. Golf may well be the most social recreation endeavor ever imagined. In golf we bring people together to experience a "steeple chase" across unique landforms. They play together — in groups, teams, and clubs. They work together — taking care of each other on the course, being respectful and keeping each other's scores. Finally, they celebrate together — gathering before and after their rounds, reliving shots, discussing strategy, and making plans for their next gathering. In golf we create opportunities to socialize in nature, and we encourage not only the recreation aspects, but the camaraderie and the entertainment that unfolds while being with others. In our designs, we never lose sight of the fact that golf lives well beyond the golf course. It lives in the fascination with professional tournaments, our love for a particular course and our yearning to improve, take lessons and have another "go" at a particular hole that we have yet to figure out. Golf is a puzzle but solved along with others even though it remains our individual effort that gets written on the scorecard.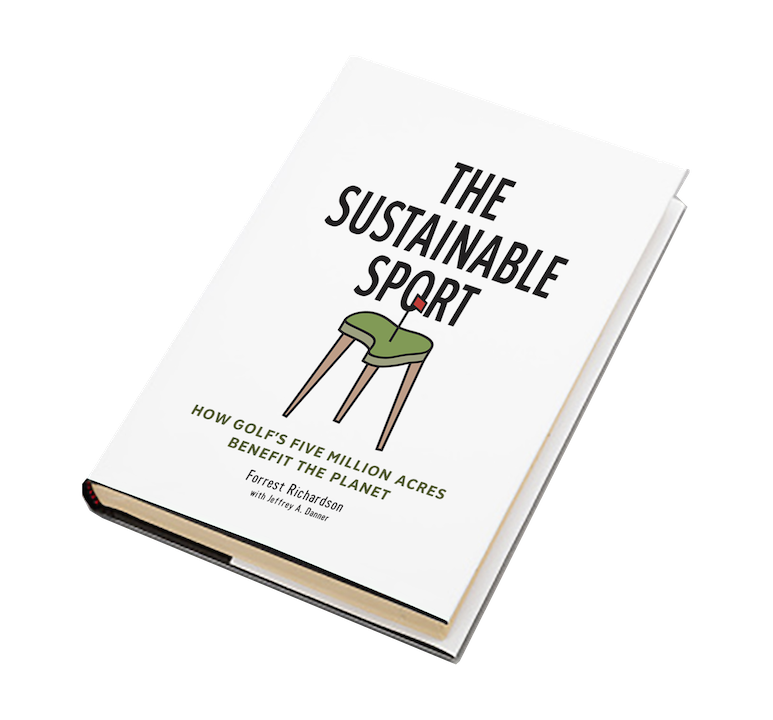 The Sustainable Sport
A new book by Forrest Richardson with Jeff Danner, is scheduled for release in 2023. This important work captures the answers to questions we've been asked — and have asked each other across the wide world of golf — just what makes golf sustainable, and how could it do an even better job in the future? 
Among the chapters are discussion and case studies of how golf has contributed to the world, sharing its "now taken for granted" methods of water conservation, turf care and doing more with less. In golf, for example, the authors point out how the advances in golf irrigation technology during the 1970s led to global changes in the way parks, landscapes and common areas are now watered to reduce water use and stop waste. 
All of this, by the way, at no tax-payer expense, but through investments made by the business of golf. Golf is rarely subsidized. Unlike agriculture across the world, golf has few, if any, subsidies. It exists to create a return on the investment, so waste — whether water, labor or supplies — are carefully considered, and this consideration has led to many new technologies and approaches we now find at our local Home Depot (DIY store) and across many day-to-day routines in our communities.
To be placed on a list for pre-orders, please fill out the following: