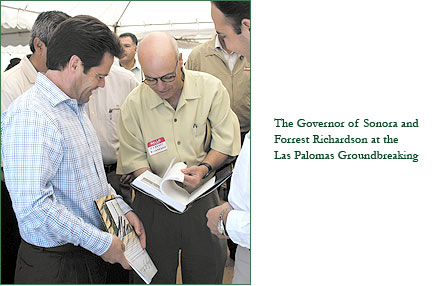 What began just a short time ago — Summer of 2002 to be exact — has matured into one of the hottest destinations in North America. By the year 2010 it is expected that Puerto Peñasco (known as "Rocky Point" to regular visitors) will have more luxury oceanfront resort rooms than in all of Cancun.
"It amazes me that just a few years ago we were sketching routing plans on the hood of my truck," says Forrest Richardson. "Where we were parked is now the pool bar of Phase One."
Las Palomas is located three hours by car south of Phoenix, Arizona. The 400-acre resort, residential, and retail community is located on the eastern shores of the Sea of Cortez.
Golf Inc's award will be presented in Austin, Texas in March 2007.
Las Palomas plays to 6,900-yards as it winds through native dunes and a lower area of lagoons and smaller dunes. The course opened in April 2006.